Nick Embleton of East Pennsboro High School pitches for Pennsylvania in the Big 26 Baseball Classic, produced in July by the Hershey Harrisburg Sports & Events Authority. The event features high school juniors and seniors from Pennsylvania and Maryland. - (Photo / SUBMITTED)
When the Hershey Harrisburg Sports & Events Authority made its debut two years ago as a team dedicated to sports tourism, the goal was simple: expand the sports and large-scale public events business in Dauphin County.
Officials with the authority's parent entity, Visit Hershey & Harrisburg, saw a new division with a distinct identity as potentially more effective in attracting new events and growing existing events, which would bring more people to local hotels and restaurants.
Officials are happy with the move so far. Top clients such as collector-car auction company Mecum Auctions have seen event attendance and sales rise to new heights.
Meanwhile, the Harrisburg-based authority has started producing a youth baseball event, while other events, such as Fondo Cycling Circuit USA, are taking a chance on Harrisburg as the sports market heats up.
"I'd say we are slightly ahead of where we expected to be after two years," said Gregg Cook, the authority's executive director.
But the authority also has to deal with more competition. A growing list of convention and visitors bureaus nationally have created separate sports brands or commissions. These organizations are hoping a sports-friendly name or dedicated staff will beef up their sales efforts beyond the traditional meetings-and-convention business and marketing of area attractions.
The youth sports market has grown to an estimated $15.5 billion-a-year industry in the U.S., and more developers and business groups have proposed new sports complexes in hopes of landing statewide, national or even international championships.
Sports marketers say many areas lack adequate facilities to meet local demand for training and tournaments, but they wonder how many are really needed.
"We are getting to a point where it is being overdone," said R. Ron Sertz, executive director of the Erie Sports Commission and chairman of PA Sports, a coalition of 13 sports tourism organizations in Pennsylvania. "Anyone that builds to attract national events is going about it wrong. If you don't build for local and regional use primarily, you're going to fail."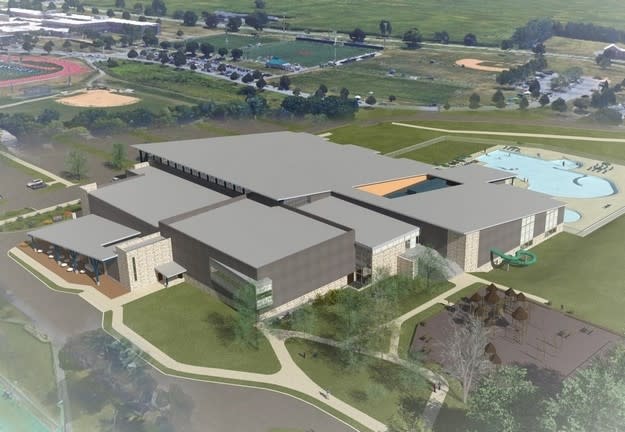 A planned Derry Township community center will include a 50-meter competition pool and two 1-meter diving boards. The project, currently budgeted at $32 million, is slated to open in May 2020, township officials said. - (SUBMITTED RENDERING)
Central Pennsylvania has seen its own share of activity in recent years – from proposed multisport facilities in Cumberland and York counties to a new community center project in Derry Township that includes plans for an indoor 50-meter competition pool and diving boards.
The pool project, for example, could attract top high school, collegiate and maybe even national swimming meets, Cook said.
Derry Township Supervisor Justin Engle acknowledged the potentially wider appeal of the $32 million facility, which is slated to open in May 2020 as a replacement to the 55-year-old Hershey Recreation Center on Cocoa Avenue.
However, he said, the project, which will include senior center space and other multipurpose and athletics spaces, should benefit the local community first.
"The reality is we don't have enough water now to serve our residents," he said. "We have way more demand than support for residents who want to swim laps."
If construction is approved, the new complex would be 110,000 square feet with indoor and outdoor community pools. The current rec center is about 32,000 square feet. Engle said the goal would be to have up to 12 major swim meets per year at the facility.
"We don't want to have this thing inundated every week with swim meets, but we also have to fund it," he said.
Swimmers in town for state and collegiate championships in the Hershey area could help area hotels fill holes in their calendars.
Indeed, sports organizations such as the Hershey Harrisburg Sports & Events Authority are always looking to bring in new events during off-peak times. But they also are adding events in peak times. Tournament operators may have limited flexibility in scheduling events, and new hotels are cropping up to absorb the additional demand for rooms.
In July, the authority produced the Big 26 Baseball Classic in Harrisburg, a three-game series featuring top high school players from Pennsylvania and Maryland.
The authority took control of the event after the game was scrapped last year. The Big 26 was started by the now-defunct Big 33 Scholarship Foundation, which ran the annual football game of the same name.
While the Big 26 is not an especially large event, every influx of people on the weekend provides a boost for hotels, restaurants and retailers, Cook said.
Events like Big 26 also can lead to spinoff ideas, such as a cross-state softball series. If the baseball event grows, Cook said he sees his organization taking a bigger role in event production.
Sport York, the sports brand for the York County Convention and Visitors Bureau, doesn't produce its own events. But acting president Laura Gurreri sees that as a potential growth opportunity, especially as York County continues to add events.
The bureau last year helped recruit and promote nearly two dozen sporting events that accounted for more than $25 million in estimated spending by visitors, she said. Softball and volleyball tournaments have been among the biggest draws.
"Sports is a big business," she said. "Why wouldn't a destination look at it?"
Sertz said he believes more visitors bureaus will create separate sports divisions.
The state coalition, he said, has helped Pennsylvania sports organizations gain more national recognition. He also believes the effort could lead to partnerships between tourism organizations hoping to attract big events to Pennsylvania. Neighboring bureaus, for example, may bid together to host a world championship.
Cook said he sees opportunities for joint bids in the future. He also hopes that as the Hershey organization's brand grows, it can go after bigger events on its own.
He has previously said he would love to see Giant Center in Derry Township host the opening round of the NCAA Division I men's basketball tournament, an event known as the First Four.
The First Four would be "perfect" for Hershey, he said, because the games are played early in the week in March and wouldn't conflict with other events held later in the week or on the weekend, including Hershey Bears hockey games.
Hershey would be competing with places like Dayton, Ohio, which has a long history of hosting NCAA games.
The midstate has hosted NCAA Division II and Division III events in the past, but Cook believes it could be ripe for more.
He is also eager to look at non-traditional sports and other events, such as competitive video-game matches.
While others may be angling for the same business, they are not pitching the same Kiss-lined streets.
From a youth sports perspective especially, tournament operators are looking for the outside factors so that families can make a vacation out of their child's sporting event," Cook said. "Hershey does that beautifully for us."
ARTICLE INSET
Auto boost
Mecum Auctions, the world's largest collector-car auction company, saw a 27 percent increase in sales this year in Harrisburg.
In all, the Wisconsin-based company posted $24.1 million in sales over a three-day event in early August. By the second day of the event, the company's fifth year in Harrisburg, CEO Dave Magers was already talking about adding a fourth or fifth day to this event next year because of the growth in this market.
"This could have been a four-day event this year," Magers said, as cars were lined up inside and outside of the Pennsylvania Farm Show Complex & Expo Center waiting to hit the auction block.
The highest price fetched at the Harrisburg auction was $302,500 for a 2006 Ford GT. Mecum sold 763 collector cars at the auction.
Mecum does nearly all of that business in front of a live audience. Online and phone bids account for less than 5 percent of all sales as car collecting is still about the experience. A lot of the research about a car can be done online, but bidding decisions still come down to seeing a car in person, Magers said.
"This hobby is a touch it, feel it, sit in it hobby," he said.
And collectors and casual observers who sit in the audience to watch the televised auctions travel far and wide to get up close and personal with rare cars.
Mecum arrived in Harrisburg five years ago because it didn't have an event in the Northeast. The company not only saw a suitable venue in the farm show complex, but also a strong car culture in Central Pennsylvania from large events in Carlisle and Hershey to Manheim.
Harrisburg beat out big cities like New York, Boston and Philadelphia to host Mecum.